Become a fan during a sporting match.
Take the chance to practice languages with native speakers. Any language is welcome.
This event is a great opportunity to socialize and meet people from the international community (both locals and visitors).
So far, participants have come from many parts of the world 🌎
The event takes place in a great location within the city (the address of the venue will be indicated during the check-in process).
Participation fees:
– Free for Students
– Paying for Non-students (5 EUR - around 6 USD)
It is mandatory to wear something yellow so that we can recognize each other ! 💛
If you have nothing yellow to wear, you can order a yellow bandana online and get it from the organizer.
By participating in our activities and events, you give more and more children the chance to have access to education.
Need some clarification? Do not hesitate to consult our FAQ
Let's practice Ashtanga & Vinyasa Yoga with Charlotte & Chloé indoor or outdoor (depending on the weather).
- Open to all - The practice is adapted to all levels of yogis
- Almost every day (please refer to schedule below)
- Two locations: l'Escale Port Marianne 138 Rue Elie Wiesel (blue color in schedule) and Espace Yoga 585 avenue de Saint Maur (green color in schedule below)
- If you don't have a mat, please send a message to the teacher in order to get one
About the teachers:
Charlotte and Chloé are passionate about the practice of yoga. They will pass on their knowledge in this area to you.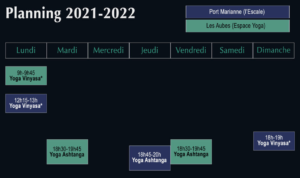 BELvue Museum, describes the history of Belgium traced from 1830, housing part of the archives and objects of the recent birth of the Belgium nation. Belgium Bellevue is an interesting place to be, it is filled with various exhibits including lithographs by René Magritte, crystal vases by Val Saint-Lambert, and a football signed by the Belgium football team. A perfect tour around the BELvue museum will make you feel like history being brought to life. You can be accurately assured that after a first amazing visit, you would leave the museum with a very clear picture of Belgium's uniqueness.
STREET ART AND GRAFFITI
On my 3-hour tour you will see an eclectic, ever-evolving mix of street art featuring the best street artists from around the world: we will explore massive pieces that take up entire buildings but also tiny hidden pieces you might probably miss. Learn about the history and the techniques of graffiti and street art and take loads of pics.
GET INTO BERGHAIN
Find out all the secrets about Berghain, THE world's most infamous techno club and hear some of the crazy stories I experienced there first hand - get real world advice on how to get in or even join me on a clubnight there. SO FAR ALL MY TOUR PARTICIPANTS WHO WENT THERE GOT IN AFTER FOLLOWING MY TIPS!
CLUB CULTURE AND ALTERNATIVE LIFESTYLE
Learn about Berlin's club culture from the early beginnings to today from somebody who actually partied at all those places since the early nineties and visit some of the pillars of the club scene with me, such as RAW area, the former BAR 25 site, the african colony YAAM and a lot more.
BUT WAIT, THERE IS MORE! UNDERGROUND TECHNO OPEN AIRS
On select dates I will take you to an underground techno open air where the tour will end in a massive party. (mostly on weekends)
BONUS: Create your own street art sticker and tag Berlin! Every participant gets the chance to design their own street art sticker to take home or stick somewhere in Berlin
Explore Barcelona's best contemporary art museum, a perfect respite from the heat as well as temporary and permanent collections. It contains around 5,000 works from the mid-20th century onwards.
In the new exhibition, A Short Century: MACBA Collection, take a walk through their massive collection with pieces dating from 1929 to the present, it lifts the lid on the history of modern and contemporary art from the unique view of Barcelona.
- Rocket to the 103rd floor and enjoy spectacular 360-degree views of Chicago from the US' second tallest building
- See Reaching for the Sky, a movie about the history of this famous tower, and learn about Chicago's colorful past via museum quality exhibits
- Really feel "above it all" with access to The Ledge – a glass-floored balcony offering you a thrilling view: more than 400 meters straight down!
Become a fan during a sporting match.
See the best of Washington D.C. on two wheels!
- 2-hour guided bike tour through some of the most iconic landmarks in Washington D.C
- Cannondale bike rental (eBike Upgrades available)
- Helmet, basket/bike bag, lock, and map of the area
Wander an estate that was once home to the first U.S. president
- Admission to George Washington's Mount Vernon Estate: the historic area, outbuildings, gardens, tomb, farm, trails, and museums
- Timed entry ticket for the guided tour of George Washington's Mount Vernon Mansion (only with the Grounds Pass + Mansion Tour)
- Admission to George Washington's Distillery & Gristmill (April-October)
- Shuttle Service to the Distillery & Gristmill (April–October)
- Access to 23 galleries and theaters in the Donald W. Reynolds Museum and Education Center
Become a fan during a sporting match.